"A moment with....Jarrid Frye"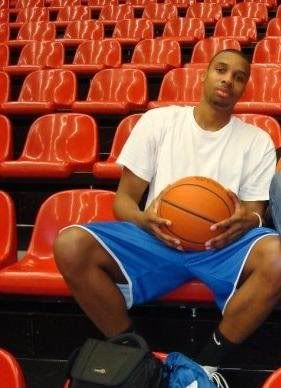 MD Network.
Meet Jarrid Frye! This 24 year old basketball point guard was one of the best players in Macedonia last season. He was part of the team that took Ohrid basketball club AMAK S.P. to the national cup finals, where they played against Swisslion Pelister and grabbed the first title in the history of Ohrid basketball. Coming from Maspeth , New York, USA he continued his career in Macedonia immediatelly after his NCAA college ball days for the Sacred Heart Pioneers.
In his last NCAA college ball season of 2006-2007, Jarrid averaged 13.3 points per game, 5 rebounds, 2.7 assists and 1.7 steals per game while his FIBA Europe stats are; 14 points per game, 3.7 rebounds, 1.0 assists and 1.7 steals per game.
After winning the cup with AMAK S.P., Ohrid fans were dissapointed to read Jarrid was leaving. That one day before the second playoff quarterfinal game against MZT Skopje. Even for the players it was a mystery why he left so soon. They really could have used him in the playoffs. AMAK lost and went fishing earlier then expected after such a good season.
We had a moment with Jarrid and asked him some questions, in our new interview, A moment with Jarrid Frye.
MD: Jarrid! Thank you kindly for having this moment with us. You are an outstanding player and very popular among the Amak SP fans and youth in Ohrid. You are definitelly a big part of the succes of Ohrid basketball. That's why we found it so hard to believe you left, and that so suddenly during the playoffs. Let's start to ask you when was the first time you touched a ball and when did you fell in love with the game?
JF: I started playing basketball when I was 7. I grew up watching my brohter and older cousins play a lot, and it just grew on me.
MD: You have played in the NCAA for some time with the Sacred Heart Pioneers. How is it to play in the NCAA?
JF: The NCAA was great. The competition is very tough, and the atmosphere is intense. Every game you must play your best.
MD: After your seasons with Sacred Heart, you decided to play with AMAK S.P. in Macedonia. How was the link with AMAK created, why did you choose to play for AMAK?
JF: After my senior year in college, I hired an agent to work in finding a club for me. I believe he had a good link with my first year coach at Amak. And from there I came for a tryout, and later signed with the team.
MD: How did your family and friends react when you said you were going to play in Macedonia. It's for sure not one of the most known countries in the world.
JF: No one really knew where Macedonia was at first. But we were all excited that I was going to play there, and get a chance to prove myself. But now, there are more people out here in New York that know about Macedonia !!
MD: Did you like Ohrid and was it hard for you to get used to the city, the people and the culture? What about the Macedonian type of playing the game? Can you name some differences with the NCAA?
JF: It was a little hard to get used to the slower lifestyle in Ohrid, things here in New York are much faster. But I got used to it very quicly. The people in Ohrid were very friendly and supportive, and I thank them for that. On the court, the game was also a little different for me. The European game involves more strategies rather than one on one. There were also some violations i had to get used to....as far as "traveling" and reaching fouls.
MD: Do you miss Ohrid? What is your best memory of the city?
JF: Yes, I miss playing in Ohrid...the atmosphere at the games was great !! The best memory would probably be when we won the Cup Title, we had good time celebrating that night.
MD: Which beach and place did you liked the most in Ohrid?
JF: In Ohrid, I like "Liquid" and "Kadmo"...I went there a lot for drinks and to relax.
MD: So can you end the mystery and tell us why you left the club?
JF: Wellll...there were some financial problems with the club. And we made an agreement to part ways.
MD: Where can we see you playing next? Any new club?
JF: Im not sure as of now where I will be playing....but as soon as I find out I will let you guys know !!
MD: What is your favorite NBA team and your favorite player? Do you follow the NBA and recently the NBA Draft? Which player in this year's draft do you think we will see the most of?
JF: I didn't get a chance to watch a lot of NBA when I was in Europe...but I'm a big fan of Dwayne Wade. I think Stephen Curry in this years' draft will do good also Ricky Rubio from Spain.
MD: What about NCAA basketball? Any favourite teams or players?
JF: havnt been keeping up with colleg lately either...I often check on Sacred Heart. Also Devin Ebanks playing for West Virgina, a friend of mine...good player.
MD: If you could choose one basketball club in the world to play with, which one would you choose?
JF: I would love to play for any NBA team..haha. In Europe I'd like to play in Spain or Italy.
MD: Any plans this summer? Taking a vacation or are you going to focus on basketball?
JF: Yea...I took a small vacation after the season to relax and take a break from basketball for about 2 weeks. After that I start to begin my workouts and work on my game for the next season.
MD: How does your typicall day looks like?
JF: I workout in the mornings ( Monday - Friday)...rest in the afternoon with my friends/family. Then I'll play in my summer league games at nightime. On weekends I relax, and go to clubs at nightime to enjoy myself.
MD: Finally, what are your thoughts on the Macedonia Daily website?
JF: I think the MD website is great.....It's a good way to find out what's goin on in Macedonia. I even have my friends and family looking at the website to get updates on the latest news in Macedonia !!
MD: Thank you very much for having this time with us. We wish you all the best in your basketball career and keep us up to date when playing for your new club!
JF: Thanks again for checking up on me....I want to thank Ohrid for their support for the two seasons that I was there. And I'm really interested to vist Ohrid during the summer months...that I've been hearing so much about..hehe !!! See ya...
BubbleShare: Share photos - Play some Online Games.